About Us
HOLY LAND DREAM FOUNDERS:
The Holy Land Dream Travel Agency was established by Mr. Bassam Michael Abunassar a wellknown Christian travel agent in 1994. His Father Mr. Michel Abunassar a wellknown character in Nazareth and its surrounding is the one who encouraged his son to start this project. Taking the good advices from him and the good education since childhood led the travel agency to the great success and the good reputation.
Holy land Dream today is dealing mainly with travel agencies in Europe, America and the far east.
In this photo: Bassam (on the right), Michel (on the left)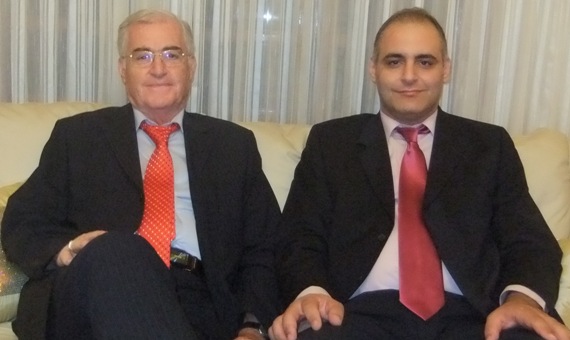 Facts about Mr. Bassam Abunassar:
Grauduated from Haifa Univ. - Ministry of Tourism Faculty:

1994: Authorized Clerk.
1998: Travel Expert Title.
2001: Tour Guide inside the Holy Land.
Purpose:

The purpose of this travel agency is to give the best services and the cheapest prices to the pilgrims who come to visit the Bible Foot Steps, the Holy Land.

Millions of Christians dream to reach the Holy Land. But unfortunately the need of recruiting sufficient budget to fullfill this dream is very hard for them.

As a Christian travel agency ,we decided to let this dream come true. To let them have the chance to fullfill this dream.

The dream should become true: to pay a small amount for a great adventure.

Please do not hesitate to contact us. We are always at your service and will be very glad to provide you with the lowest quotations without any commitment to "HLD - Holy Land Dream" Travel Agency (From your side).
Welcome to the Holy Land.

Jesus said: "I am the bread of life; he who comes to me shall not hunger ,and he who believes in me shall never thirst." (John 6:35-36)

Holy Land Dream is your best consultant for the Holy Land
Holy Land Dream Is Your Best Consultant For The Holy Land
Powred BY AHLANNET L.T.D